Residents Academy
Residents Academy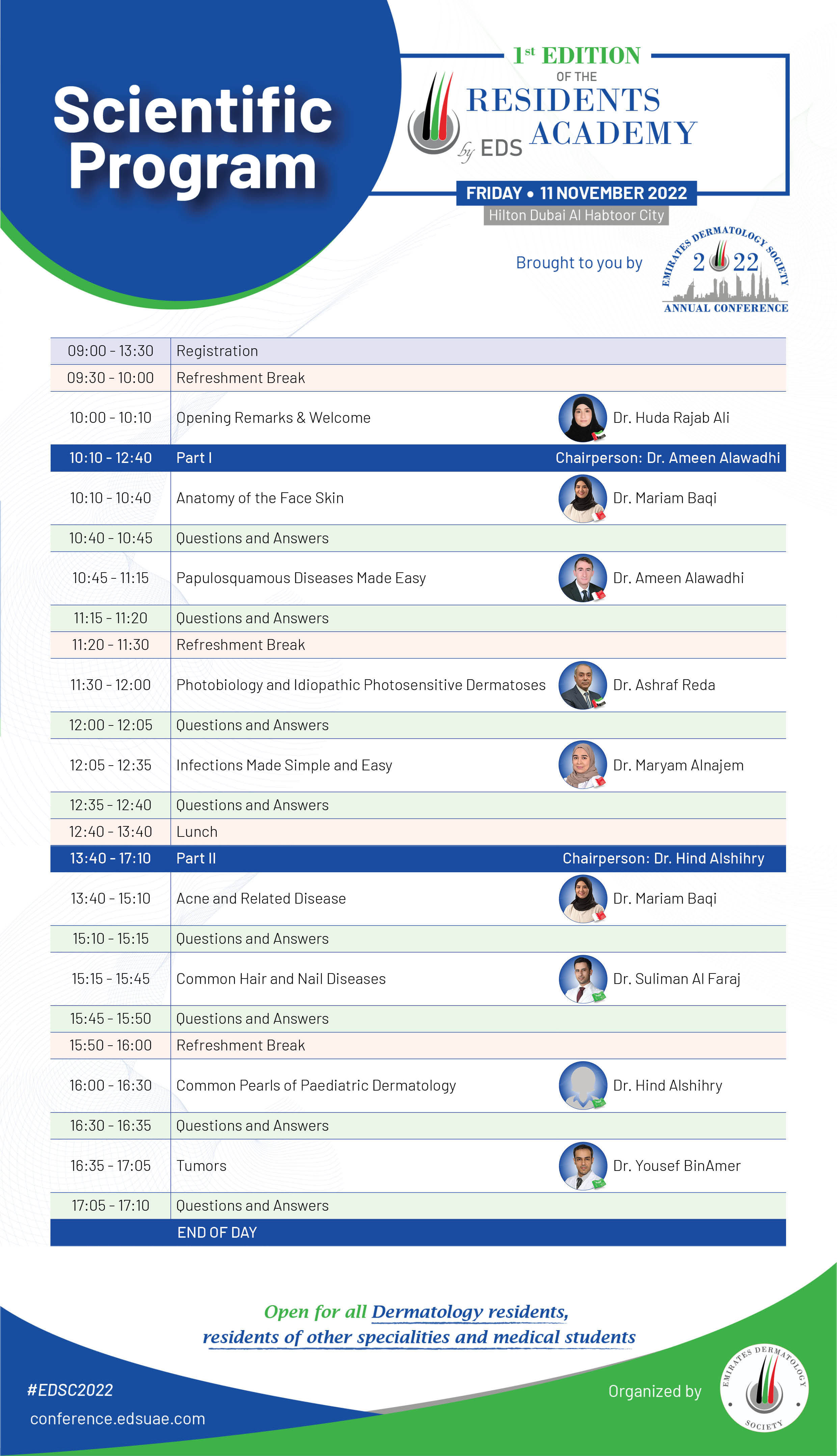 (Sorted Alphabetically by First Name)
Ameen Alawadhi
Consultant Dermatologist and Dermatopathologist
Head of Dermatology and Head of Training in Dermatology Salmaniya Medical Complex
Manama, Bahrain
Dr. Ameen Alawadhi is a consultant dermatologist and dermatopathologist. Graduate of the Arab Board and European board in Dermatology and Venereology. He completed two fellowships in Mount Sinai Hospital New York, the first in advanced medical dermatology and the second in dermatopathology. He is an editorial board member in the journal of the American Academy of Dermatology and a faculty member in Arabian Gulf University. He is the Head of dermatology in Salmaniya Medical Complex, Bahrain.
---
Ashraf M. Reda
Consultant Dermatologist Mediclinic Welcare Hospital
Adjunct Clinical Associate Professor
Mohammed Bin Rashid University of Medicine and Health Sciences
Dubai, United Arab Emirates
Dr. Reda obtained his medical qualification from Ain Shams University, Cairo, Egypt in 1981. He served as professor of Dermatology at the same University. He has spent 2 years at Mayo clinic, Rochester, Minnesota where he got extra training in clinical dermatology, Dermatopathology and Immunodermatology. Dr. Reda has several research and clinical articles published in national and international journals. Aside from his clinical practice, Dr. Ashraf has been actively participating as an international speaker in various multinational scientific events in the field of dermatology and immunology.
---
Hind Alshihry
Consultant Paediatric Dermatologist
Prince Sultan Military Medical City
Riyadh, Saudi Arabia
Dr. Hind Alshihry is a Saudi Arabian Paediatric dermatologist. She earned her medical degree at King Saud University in 2005. Her residency training was at the Saudi Board of Dermatology Program in Riyadh, Saudi Arabia, and was completed in 2010. She continued her clinical training in paediatric dermatology at Northwestern University in Chicago, the United States, between 2013 and 2014. She works as a consultant in dermatology and pediatric dermatology and is the director of the pediatric dermatology division at Prince Sultan Military Medical City in Riyadh, Saudi Arabia. Dr. Alshihry has a particular interest in the care of medically complex children. She has authored articles in dermatology journals and actively participated in many national and international scientific meetings.
---
Mariam Baqi
Consultant Dermatologist
Arab Board Double Fellow Certified,
Mount Sinai New York Medical Director of Nadhara Skin Center
Bahrain
Dr. Mariam Ahmed Baqi, Bsc., Md Arab board in dermatology. Fellow of Mount Sinai New York in clinical dermatology Mount Sinai New York in aesthetic and non-surgical dermatology. Former head of Arab board training program at the ministry of health. Founder and clinical director of nadhara skin center. Social media influencer and speaker in many regional and international conferences.
---
Maryam AlNajem
Dermatology Specialist
Salmaniya Medical Complex
Manama, Bahrain
Dr. Maryam Khalid AlNajem, MBBS, currently working as Arab board-certified dermatology specialist at Salmaniya Medical complex in Bahrain. A speaker in Bahrain Dermatology, Laser and Aesthetic BDLA conferences for the past two versions First place winner of Dubai Derma Case Report Competition 2018, UAE, and in best clinical case in BDLA Conference 2019, BHR. Honored with "The Prince Salman bin Hamad Medal for Medical Merit"
---
Suliman Al Faraj
Assistant Consultant of Dermatology
Care Clinic
Riyadh, Kingdom of Saudi Arabia
Dr. Suliman Al Faraj is an assistant consultant of dermatology and a Saudi board-certified dermatologist, who currently works in a private sector practicing both medical and aesthetic dermatology. Interested in medical education and developing the learning experience in dermatology programs in the region.
Dr. AlFaraj have published many articles during his career and continue to work on new projects.
---
Yousef BinAmer
Chairman of Department of Dermatology
King Faisal Specialist Hospital & Research Centre Adjunct
Associate Professor Alfaisal University
Riyadh, Saudi Arabia
Dr. BinAmer is certified by the American Board of Dermatology as well as by the Royal College of Physicians and Surgeons of Canada. He had a fellowship in Advanced Medical Dermatology from Toronto University. He obtained Executive Master of Business Administration from Hult business school. He is currently the chairman of department of dermatology at King Faisal Specialist Hospital & Research Centre, Riyadh, Saudi Arabia and adjunct associate professor at Alfaisal University, Riyadh, Saudi Arabia.